Image

Image

In the interest of clear and transparent information, EuroAirport is making a new tool available today, 1st October 2020. Through TraVis, you can now map the flight tracks and noise levels of aircraft arriving and departing from Basel-Mulhouse Airport online.
Image

Performing a full airport runway and taxiway survey plays an essential part in EuroAirport's core mission of keeping air travel safe. To optimise the technology used in the inspections, which have until now been performed at night by its employees, Basel-Mulhouse Airport is becoming one of the first three airports in France to roll out automated inspections by a vehicle equipped with 3D-laser sensors, an innovation shortening the process from 25 nights to just 4 hours.
Image
The Airport Carbon Accreditation certification Level 2, first awarded to EuroAirport in 2018, was confirmed for the second time in late August. The Airport is now working towards ACA Level 3 accreditation in 2021.
Image

Since Saturday 1 August 2020, in accordance with French legislation, mandatory COVID-19 tests are carried out at EuroAirport for all travelers from countries at risk. At present, this applies to arrivals from Serbia and Turkey.
Image

The first deputy mayor of Saint-Louis, Philippe Knibiely, has succeeded the late Jean-Marie Zoellé on the Board of Directors of EuroAirport. Following Hubert Monzat's retirement in April 2020, Sylvain Rousselle has taken over as the new French Financial Controller of the binational public institution.
Image

EuroAirport has posted information on its website where travelers and visitors will find an overview of the precautionary measures, current flight situation, and health and safety measures in place at the Airport.
Image

The new Ministerial Decree regulating restrictions on the operation of Basel-Mulhouse Airport came into force on 21 May 2020.
Image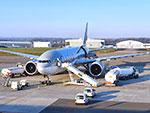 EuroAirport Basel has an important role to play in the current coronavirus situation by enabling cargo flights to fly vital goods in and out of the region.
Image

Image

Restaurants and shops closed; take-aways and tobacco and newspaper shops open
Image

Passenger numbers reached a new high of 9.1 million in 2019. In the last four months of the year, there was a slowdown in year-on-year growth. Express freight, an important service segment for the regional economy, also increased. Cargo traffic, on the other hand, showed a year-on-year decline overall. EuroAirport has defined its Strategy 2030 on the basis of sustainable development.