From 25 nights to just 4 hours: EuroAirport introduces a breakthrough runway survey technology
Performing a full airport runway and taxiway survey plays an essential part in EuroAirport's core mission of keeping air travel safe. To optimise the technology used in the inspections, which have until now been performed at night by its employees, Basel-Mulhouse Airport is becoming one of the first three airports in France to roll out automated inspections by a vehicle equipped with 3D-laser sensors, an innovation shortening the process from 25 nights to just 4 hours.
 
Achieve time savings and greater precision using new technology
Image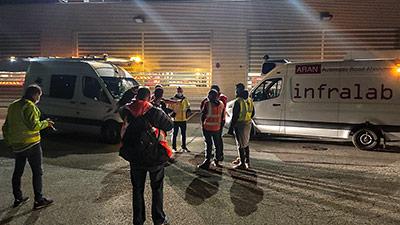 In the night from 8 to 9 September 2020, a one-of-a-kind vehicle – fitted with various cameras, 3D-laser sensors and an onboard server travelling at 70 km/h – carried out the first survey of Basel-Mulhouse Airport's main runway, accurate to the nearest square centimetre. Its sensors surveyed the entire 3.9 km-long main runway in less than 4 hours, searching for any evidence of degradation in the condition of its surface. Until now, the survey to pinpoint any degradation was conducted on foot by a team of EuroAirport technicians between midnight and 5am, when there is no air traffic. This painstaking task used to take around 25 nights and had to be performed in all weathers by torchlight and using the headlights of the support vehicles.

With safety a paramount concern, an in-depth survey of runways and taxiways is carried out every year in addition to the twice-daily inspections by ramp agents to check for foreign bodies that could damage aircraft. The new process, implemented for the first time on EuroAirport's runway 15/33, will be used to plan any work needed and harmonise measurement techniques, mapping the runway in both 2D and 3D. The technology was tested in advance on the secondary runway.

A binational pioneer
Ultimately, these trials should pave the way for this cutting-edge technology to be rolled out across all French airports. EuroAirport is pioneering this project in France alongside two partners – Aéroports de Paris and the Infrastructure department of the French defence ministry (military airports). The project is going ahead in conjunction with STAC (French civil aviation technical service), whose engineers came to Basel-Mulhouse from Paris on 8 September to observe the tests. As far as Switzerland is concerned, this was the first time that detection technology based solely on 3D-imaging had been used at a Swiss airport.

Together with STAC, EuroAirport is also involved in developing a new benchmark for France classifying degradation to aircraft runways and taxiways. EuroAirport is the only airport in the world administered jointly by two countries. The companies selected to apply this innovative process – Technologies Nouvelles based in Nanterre (France) and Infralab based close to Lausanne (Switzerland) – reflect this dual management structure.
Image