Mobile App
Image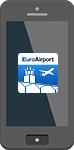 Download the official mobile app of Basel-Mulhouse Airport for iOS and Android!

The app shows current arrivals or departures on launch. In addition, you can add individual flights to a favorites list, allowing direct access to the current status of the flight without a time-consuming search. The detail view of a flight shows the check-in counter and departure gate for departing flights, the baggage belt for arriving flights.

For every flight, push notifications can be activated to be informed about status changes like delays or boarding times.

With the search function, you can find all flights of the current season using search criteria in any combination (date, airport of destination or of origin, airline, flight number).

The app also includes:
Overview of the parking zones, their current occupancy and their tariffs, incl. a tariff calculator
Information on Public transport connections (bus)
Information on the airlines serving EuroAirport
Check-In information
Important phone numbers with direct dialling function
"Bag Tracker" - follow the progress of your bags to the plane after check-in at EuroAirport
The EuroAirport app is in three languages (English, German, French); the desired language can be changed in the settings.
Screenshots
(Click to enlarge)