Image

Image

The new flight programme for winter 2021/2022 will apply with the change to Winter Time on 31 October 2021. The programme, which is valid until 26 March 2022, offers flights to 70 destinations in 29 countries, giving travelers the opportunity to fly directly to the main cities in Europe and near the Mediterranean sea – with  a focus on Egypt – and  inter-connects major international hubs with a choice between the three largest airline alliances. Some twenty airlines are in the starting blocks.
Image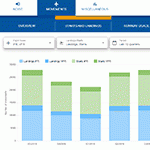 From 7 September 2021, EuroAirport's noise and flight movement statistics can be viewed on a dedicated internet platform developed by the Airport for this purpose. The aim of the Airport is to provide clear and transparent information.
Image

A new airline, a new base, new destinations and a new aircraft at EuroAirport Basel-Mulhouse-Freiburg: Helvetic Airways is bringing a batch of novelties to the tri-national region. On Thursday 8 July, the Swiss regional carrier officially opened its new base at Basel-Mulhouse Airport.
Image

A water salute inaugurates a new base! After operating regular flights out of Basel-Mulhouse-Freiburg for a year, Corendon Airlines, an international airline headquartered in Antalya and Malta, has now decided to open a base at the Airport.
Image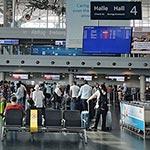 Traveling is now possible again with the easing of restrictions in the summer. Yet things are not quite the way they used to be.
Image

The range of charter flights out of EuroAirport Basel-Mulhouse-Freiburg is growing: on 5 June 2021, SmartLynx Airlines officially opened a new base at Basel-Mulhouse Airport for TUI, Germany.
Image
Air Canada Cargo landed at EuroAirport on 14 April 2021, inaugurating the new transatlantic cargo connection between Toronto and Basel-Mulhouse
Image

Despite the uncertainties associated with the pandemic, a new seasonal flight schedule is now available at EuroAirport Basel-Mulhouse-Freiburg for summer 2021, which came into force on 28 March. New destinations in Europe and around the Mediterranean basin have been added, and new airlines are setting up operations at Basel-Mulhouse Airport.
Image
At its meeting on 18 March 2021, the Board of Directors of Basel-Mulhouse Airport welcomed two new Swiss members, Esther Keller and Kaspar Sutter, both State Councillors for the Canton of Basel-City. Ms Keller is Head of the Building and Transport Department while Mr Sutter is Head of the Department for Economic, Social, and Environmental Affairs.
Image

Air transport is one of the industries most affected by the COVID-19 pandemic. Throughout these unprecedented times, EuroAirport has continued to discharge its responsibilities as a reliable and committed partner of the tri-national Region. The Airport has demonstrated its responsiveness to constantly evolving regulations and their effects on airport operations. Faced with a drastic 71% drop in passenger traffic, to 2.6 million, EuroAirport has implemented significant reductions in expenditures and introduced strict cost containment measures. Despite the lack of visibility, sustainable development is more than ever at the core of Basel-Mulhouse Airport's activities.