New, newer, newest… Helvetic Airlines newly stationed at EuroAirport
A new airline, a new base, new destinations and a new aircraft at EuroAirport Basel-Mulhouse-Freiburg: Helvetic Airways is bringing a batch of novelties to the tri-national region. On Thursday 8 July, the Swiss regional carrier officially opened its new base at Basel-Mulhouse Airport.
The ribbon-cutting ceremony was held on the Basel-Mulhouse airstrip with the representatives of Helvetic Airways and EuroAirport. It marked the return of a Swiss carrier to Basel-Mulhouse after several years. Two Embraer, an E190-E1 and an E195-E2, will now be stationed at the bi-national Airport.

Thanks to Helvetic Airways, two new destinations are being inaugurated out of EuroAirport – just in time for sunny holidays in Europe: Santorin, the Greek island famous for its caldera, and Jerez de la Frontera, renowned for its wine and flamenco. The 2021 summer flight schedule also comprises a third destination: Larnaca on the island of Cyprus, at the cultural crossroads of the Mediterranean. Flights can be booked on https://booking.helvetic.com.

Matthias Suhr, General Manager of EuroAirport, admitted his great satisfaction at having a carrier flying the Swiss flag once again stationed on the Basel-Mulhouse airfield. "We are delighted to strengthen the connectivity of our tri-national territory by extending the number of destinations served from Basel-Mulhouse in summer 2021 to additional attractive cities thanks to a full-service airline with an aircraft more respectful of the environment, and perfectly in tune with EuroAirport's strategy of sustainable development." The Airport takes the opportunity to remind passengers that during the summer months, with the COVID crisis, they should arrive at the Airport well in advance of their flights.

Helvetic Airways operates with local crews of pilots and stewards. "With two aircraft stationed at the Airport staffed by some twenty crew members, we are sending a strong signal to the region. We are convinced of EuroAirport's potential for our operations", explains Tobias Pogorevc, CEO of the regional carrier.

The 134-seat Embraer E195-E2 which landed at Basel-Mulhouse on 8 July at 3 pm is also called the "Green Machine" and is the flagship of the Helvetic Airways fleet. Indeed, it is one of the quietest single-aisle aircraft currently in service, with a consumption of up to 25% less fuel per flight than comparable aircraft types. Cesar Pereira, Vice-President Europe, Middle-East and Africa (EMEA) of aircraft manufacturer Embraer, said: "It's a great honour to join Helvetic today for the first E195-E2 flight to its new home at EuroAirport Basel-Mulhouse-Freiburg. As the quietest and lowest emission aircraft in its class, Helvetic's E2 is progress for the communities of the tri-national area – as well as providing more comfortable travels to many exciting new destinations."
 
Image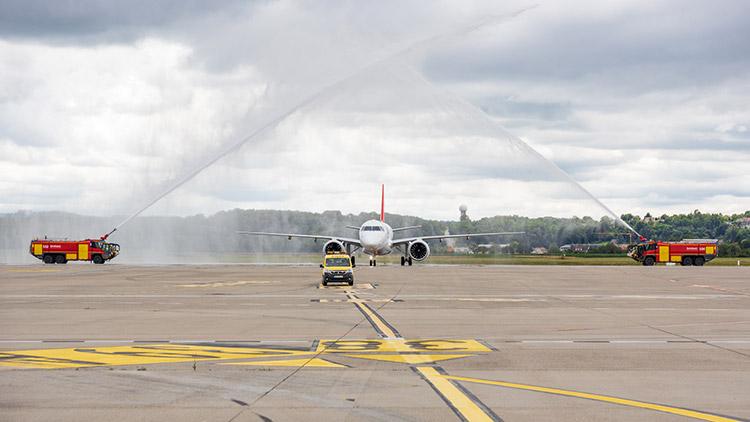 Image