Image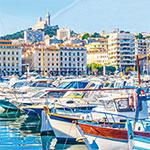 At EuroAirport Basel-Mulhouse-Freiburg, the new 2022/2023 winter flight schedule will come into effect with the changeover to winter time on Sunday, October 30, 2022.
Image

Flights to over 90 destinations with 25 airlines: the flight plan for the summer season will start on 27 March 2022 with a number of new destinations.
Image

On 1 February 2022, the new ministerial decree regulating restrictions on the operation of Basel-Mulhouse Airport comes into force. It contains additional noise reduction measures.