New base at EuroAirport: successful take-off for Corendon Airlines
A water salute inaugurates a new base! After operating regular flights out of Basel-Mulhouse-Freiburg for a year, Corendon Airlines, an international airline headquartered in Antalya and Malta, has now decided to open a base at the Airport.
The aircraft to be stationed at Basel-Mulhouse Airport took off for its first flight at 6 am on Friday 2 July 2021 with Heraklion as its destination. As Switzerland's third airport and France's fifth, EuroAirport is thus extending its range of holiday destinations in the Mediterranean and consolidating its role of ensuring the connectivity of the Franco-German-Swiss region with the whole of Europe.

On Friday 2 July 2021, flight XR7236 was well and properly showered! EuroAirport's firefighters welcomed Corendon Airlines' Boeing 737-800 for its base at Basel-Mulhouse Airport with a water cannon salute on its arrival from Heraklion in Crete.

Destinations conducive to sunny holidays
The 189-seat aircraft will fly once or twice a day between Basel-Mulhouse and the Greek islands: Rhodes and Kos in the Aegean, Corfu, the reputed nexus between East and West in the Ionian Sea, and Heraklion in Crete. Starting in May 2022, Corendon Airlines will fly to a fifth destination, namely La Canée, one of the prettiest towns in Crete with its Venitian port. Since 2020, Corendon has served three Turkish destinations from EuroAirport: Izmir with its sandy beaches and nearby ancient sites; Kayseri, inaugurated at EuroAirport on 3 July 2020 and renowned for its economic prosperity and historic caravanserai; and Antalya, the capital of the Turkish Riviera, one of the world's most popular seaside destinations. In 2021, Corendon added three new destinations: Ankara, Gaziantep, and Milos-Bodrum. Do you prefer Spanish cuisine? Five destinations in the Balearics and the Canary Islands are on the Airline's flight schedule for autumn 2021: Fuerteventura, Grand Canaria, Lanzarote, Palma de Mallorca and Teneriffa. Corendon Airlines flies to 16 destinations in all.

While these sunny destinations offer a foretaste of the holidays, travellers should not forget the precautionary health and security measures still in place at the Airport: face masks are mandatory throughout the terminal as well as on board all flights. Corendon Airlines and the Airport are committed to ensuring passengers travel in strict observance of the applicable health measures. Moreover, passengers are advised to contact the Airline before embarking on their trip to make sure they are fully aware of travelling conditions.

Geared to expansion
The scope of the Airline's flight programme – geared to tourist and holiday destinations, as well as customers visiting friends and family – clearly demonstrates that Corendon intends to expand in Basel-Mulhouse and the tri-national region. Starting with one aircraft and its crew, the airline will contribute to the local economy. Corendon Airlines is thus positioning itself first among the four airlines offering the largest choice of travel destinations out of Basel-Mulhouse Airport. Established in 2005, Corendon Airlines offers low-cost flights to 160 destinations worldwide, with a special focus on the Aegean, the Red Sea, and the Atlantic; in 2019, the airline carried 2 million passengers with a fleet of 20 or more Boeing 737s.

"The inaugural water salute for a new base confirms the signs of recovery of EuroAirport's activities this summer. We are happy to welcome Corendon, an airline that demonstrates its dynamism by investing despite the crisis," says Matthias Suhr, Managing Director of the EuroAirport. "The new base enables the Airport to respond to the strong yearning for mobility in the aftermath of the critical period of pandemic lockdown. This reinforces the attractiveness of our region, which serves a potential reservoir of one million passengers.  Having come through this difficult period, it is important to offer the inhabitants of the region the possibility of going on holiday and enable families and close friends to get together again at last." 

"We felt that EuroAirport was the gateway to significant new market with access to an important region that is both densely populated – with over one million inhabitants – and economically dynamic with the strong industrial metropolis of Basel.  This is why we took the risk of opening new routes to and from Basel-Mulhouse in July 2020," explains Yildiray Karaer, CEO of Corendon Airlines.  The Company started out operating charter flights, some of which from Basel-Mulhouse-Freiburg Airport.  Corendon Airline has a reputation for "firsts"; it is the first airline to be ISO 10002 certified for customer satisfaction, the first Turkish airline to issue boarding passes in Braille for visually impaired passengers, and the first to adopt special procedures for passengers with hearing impairments.
 
Image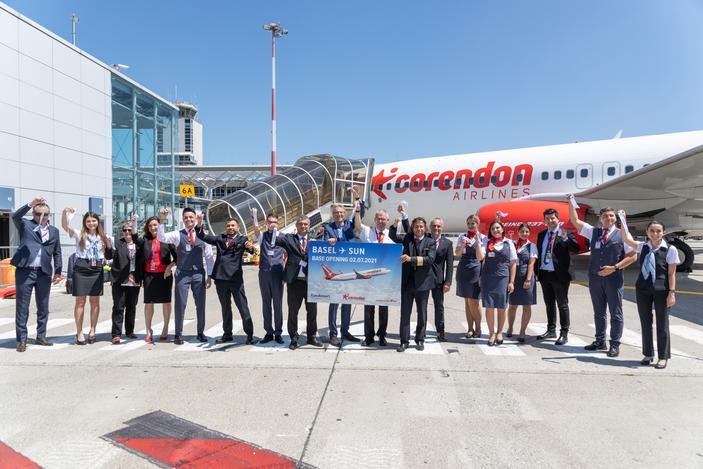 Image